Design Contest - FDX members certificate
As we already received many files concerning the FDX membership certificate, the FDX Design Team purpose to launch a contest.

Yes it's objectively impossible to say who designed the best one and we finally decided to do this contest using the vote system of our forum. the most rated will won 100 QSL cards (digitally printed by our printer).
---

Rules
Who can participate ?

All FDX members without subscription and respecting this rules.




1st price:



The first price will be gived to the memeber who will have a maximum of votes and 100 personal QSL  "digitally printed" will be offered to him.




Dates



Your project have to be sent until Saturday 27 of Marsh 2010 12h00 (GMT)




Graphic format accepted ?



"Jpeg2000" or "Jpeg" or "Gif" or "Png"


---



Size



29.7 cm par 21 cm (A 4 printing)




Résolution (minimal)



1010 per  714 pixels (or 34 pixel per cm)


---



Text



The text have to be written in English like on the example below: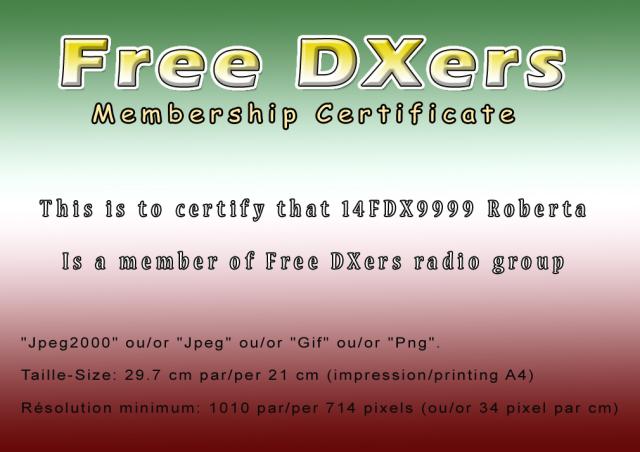 Free DXers - Membership Certificate

This is to certify that xxFDXxxx is a member of Free DXers radio group.
---



Logos FDX



If you need FDX Logo I can send it 100 %, you just have to contact me by email.

:D



Good luck !


___________________
14CRX058 / 14FDX058 / 14MEX058

© Innovez au lieu de copier ©

Ce forum est ouvert à tous, toutes bandes de radio confondues.

Parce-que nous cultivons la même passion !
La Radio n'est qu'un hobby !